Juice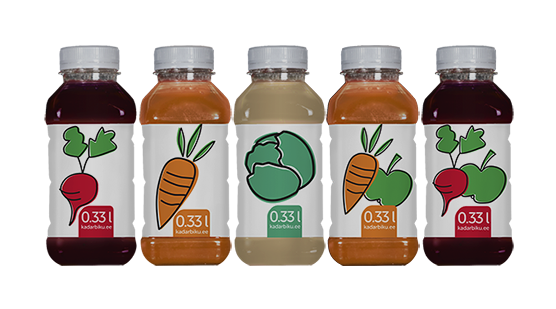 Juice is fermentable but unfermented, and it is derived from one or several types of flawless and ripe, fresh or cryopreserved fruits, and juice has a colour, smell and taste characteristic of the type of fruit.
Juice is made from fruits, berries or vegetables using different technological measures, and the liquid may or may not contain pulp. The nutritional value of the raw ingredient is largely preserved in juice.
Juice must not include artificial flavourings or colorants. Carbon dioxide may be added to juice, and concentrated or unconcentrated lemon juice may be added to regulate acidity.
Sugar products (up to 15 g per one litre of juice) may be used in juice production to improve the flavour. In this case, this has to be reflected in the product name, for example using notes such as 'sweetened' or 'with added sugar'.
Requirements for labelling the product and composition are the same as for juice. An exception is a product name to which the words '- juice from concentrated juice' are added, for example 'apple juice from concentrated juice'.
All Kadarbiku vegetable juices fall in this group.
Concentrated juice
Concentrated juice is derived by separating water from one or several types of juice with a physical processing method. Concentrate is easier to preserve and transport, and it also make it possible to preserve the natural colour, aroma and ingredients of juice. At least 50 percent of water must be separated from juice concentrate intended for consumers.
Juice from concentrated juice is derived from concentrated juice to which the amount of water separated during concentrating the juice is added and the aroma and flavour of which is restored, and if necessary, pulp and fruit cells separated from the same or from the same type of juice is added back. The added water must have suitable chemical, microbiological and organoleptic properties in order to ensure the quality characteristic of juice.
Nectar is fermentable but unfermented, and it is derived by adding water and a sugar product and/or honey to the juice product, puree or a mixture thereof.
Depending on the type of fruit and berry, there is 25–50% of juice in nectar, and it is regulated with a European Union directive. Thus, nectar could be considered a diluted juice, but sweeteners and acid regulators may be used in production to improve its flavour.
At the time, Kadarbiku produces one nectar – Päikesesmuuti (Sun Smoothie).
Puree is fermentable but unfermented, and it is derived from fruit that may be peeled and that is liquidised without removing the juice. Concentrated puree is produced by partially removing water from the puree using a physical processing method.
Smoothie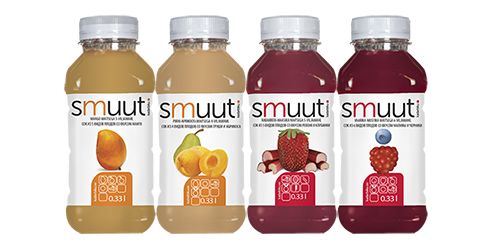 Smoothie dates back to the Unites States of America in the 1960s, and it is a blended, cooled and sometimes a sweet beverage made from fresh fruit or vegetables. Crushed ice, frozen fruit, honey or frozen yoghurt and other ingredients (soy, green tea) are often added to the product. Some smoothies are made from 100% crushed fruits or vegetables. Smoothie differs from juice in that when making a smoothie, an entire fruit or berry is smashed and the puree-like liquid is served or bottled.
Smoothies sold in stores are usually derived by mixing the purees and/or concentrated juice of several fruits. Smoothie is essentially a juice or nectar containing pulp.
The word SMUUTI (smoothie) entered the Estonian language precisely thanks to Kadarbiku's products.
Juice drink
Juice content in a juice drink is even smaller than in nectar, usually approximately 15%.
The composition of juice drinks is not regulated with composition and quality requirements applicable to juice products. Labelling them is regulated with the general requirements for labelling. Juice drink resembles most a homemade berry juice.